So those that follow my Twitter feed have seen me teasing this guy. Well here it is... and man was this a lot of work!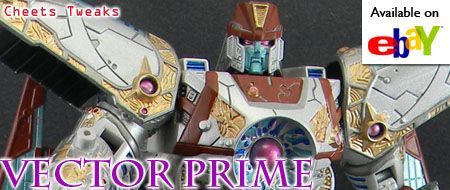 One of my favorite TF figures ever,
Vector Prime
!
And this guy was made from the Hasbro version of the mold. Ya know,
the all white one that just wasn't so hot.
I airbrushed so much silver paint it's insane. But more insane was detailing all that gold in place. And then detailing between the gold which you can probably barely see but I'm all kinds of anal and I like subtle details and.... phew!
I had to specially mix that blue and then I added some gunmetal to parts to accent the silver a bit more.
Anywho, enjoy!!!